Keywords are the foundation of SEO. If nobody is searching for what you're writing about, you won't get traffic from Google—no matter how hard you try.
That's why we wrote this beginner's guide. It teaches you a proven keyword research framework that you can easily adapt to your website and goals. We used the same framework to grow our blog traffic from 15,000 to over 700,000 monthly search visits in just a few years.
. Brainstorm 'seed' keywords
Seed keywords are the foundation of the keyword research process. They define your niche and help you identify your competitors. Every keyword research tool asks for a seed keyword, which it then uses to generate a huge list of keyword ideas (more on that shortly).
If you already have a product or business that you want to promote online, coming up with seed keywords is easy. Just think about what people type into Google to find what you offer.
For example, if you sell coffee machines and equipment, then seed keywords might be:
coffee
espresso
cappuccino
french press
Note that seed keywords themselves won't necessarily be worth targeting with pages on your website. As the name suggests, you'll use them as 'seeds' for the next steps in this process. So don't obsess too much over your seed keywords. It should only take a few minutes to find them. As soon as you have a handful of broad ideas related to your website's topic, move on to the next step.
2. See what keywords your competitors rank for
Looking at which keywords already send traffic to your competitors is usually the best way to start keyword research. But first, you need to identify those competitors. That's where your brainstormed list of keywords comes in handy. Just search Google for one of your seed keywords and see who ranks on the front page.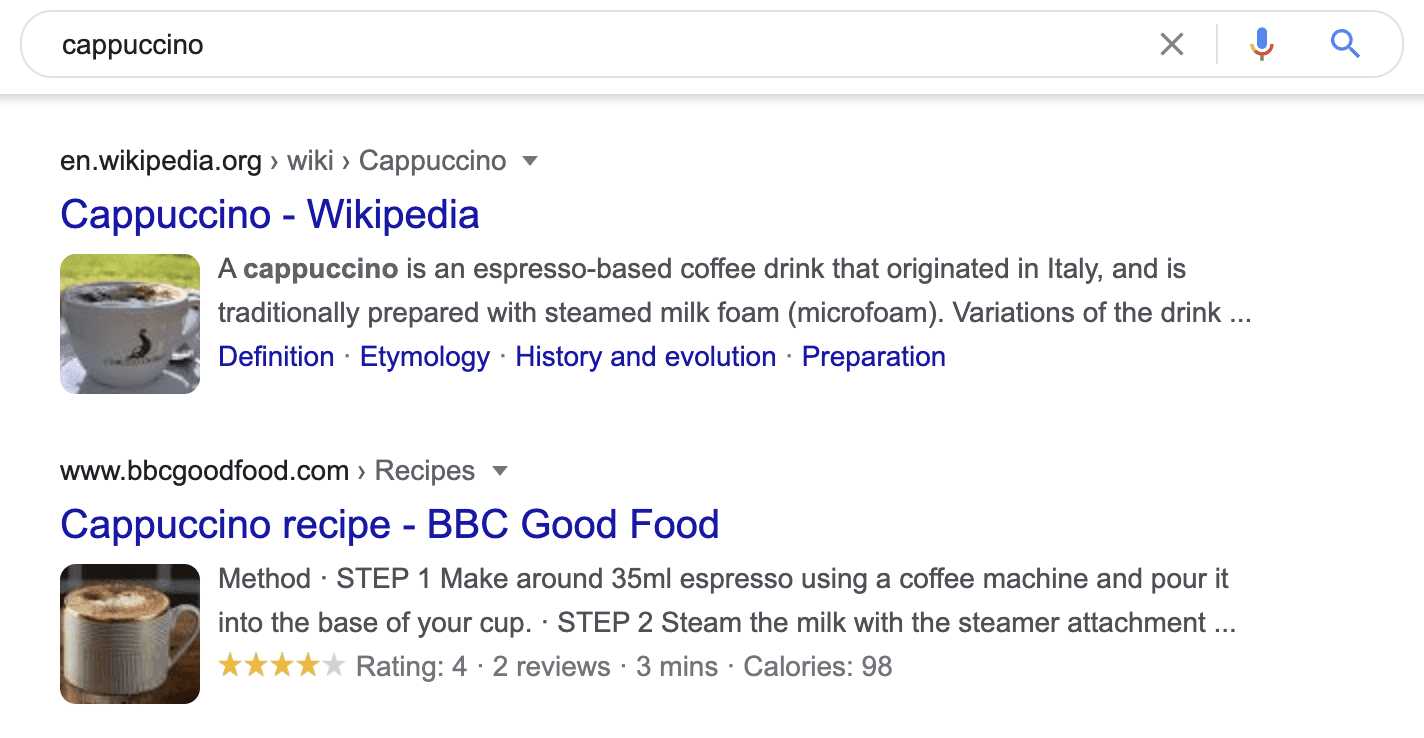 If none of the top-ranking websites for your seed keywords are like your site (or where you're trying to take it), try searching for relevant 'autosuggest' queries instead.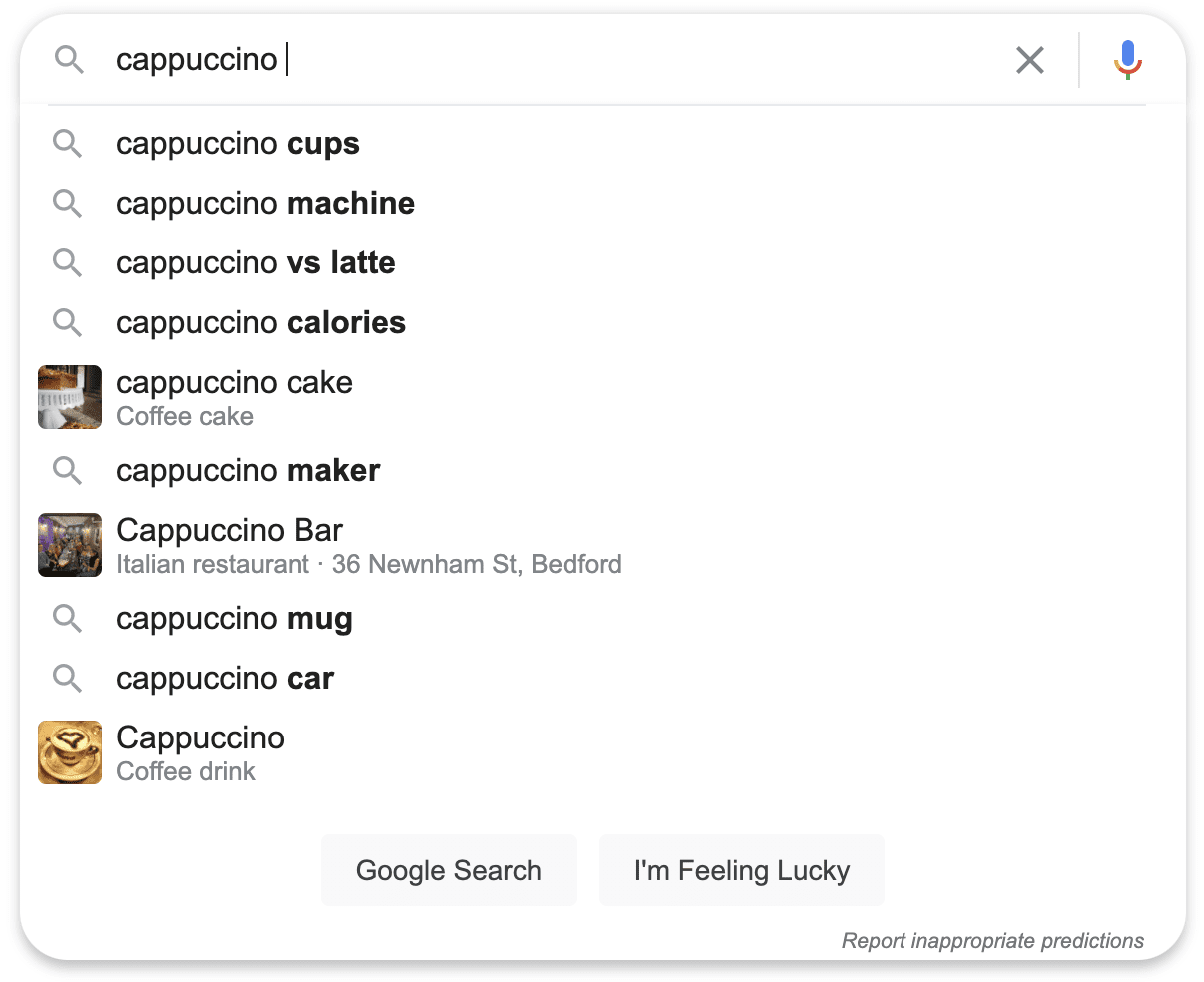 Google's 'autosuggest' queries pop up as you type your query.
For example, if you sell coffee equipment, you might find more actual competitors in the search results for "cappuccino maker" than "cappuccino." That's because it's mostly ecommerce stores like yours ranking for the former, and blogs ranking for the latter.
Either way, you still need to use your best judgment when determining competing websites. If you see huge brands like Amazon or The New York Times ranking for your seed keyword, you shouldn't necessarily treat them as competitors. Always look for websites that resemble your own—or where you're trying to take it.
Once you find a few websites that fit the bill, you can plug these websites into a competitive intelligence tool like Ahrefs' Site Explorer one by one, then check the Top Pages report. You'll then see their popular pages by estimated monthly search traffic. The report also shows each page's "Top keyword." That's the one sending it the most organic traffic.

Data via the Top Pages report in Ahrefs' Site Explorer.
Here are a few interesting keywords we discovered for our hypothetical coffee store, just by analyzing one competing website with Site Explorer:
how to use a french press
turkish coffee
moka pot
how to make coffee
neapolitan coffee maker
As you can see, even if you're quite familiar with your industry, you can still find plenty of unique keyword ideas by studying your competitors that you probably wouldn't have found from brainstorming alone.
If you checked all the competitors in the search results but still want more keywords, you can find more competitors in the Competing Domains report in Site Explorer. Just plug in one of your known competitors, and it'll suggest other similar sites based on the number of the overlapping keywords that they rank for Google.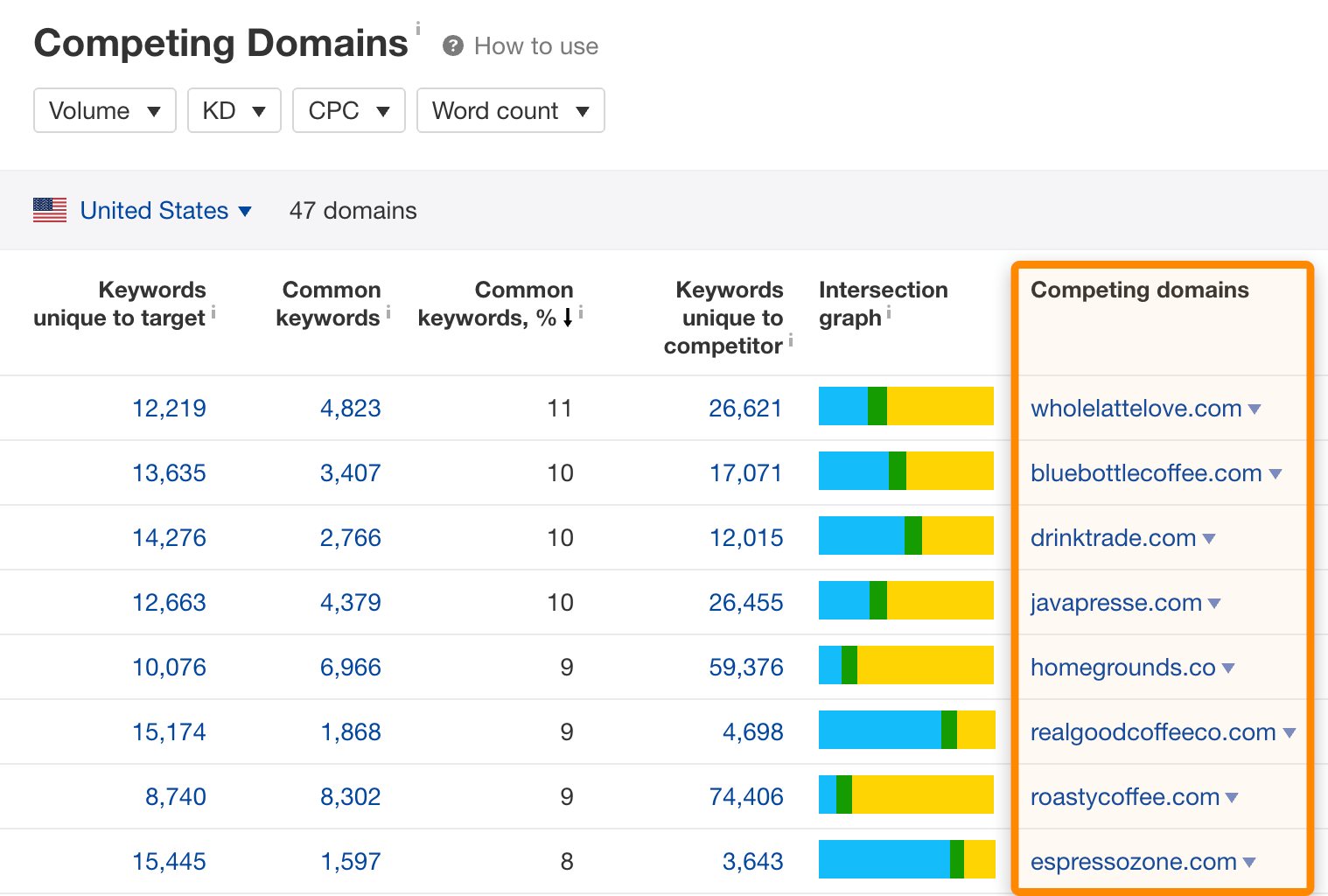 Competing Domains report in Ahrefs' Site Explorer.
You can repeat the process above over and over for near-unlimited keyword ideas.ARE YOU SEEING A LOT OF TOPICS YOU'VE ALREADY COVERED?
If you're doing keyword research for an established website in your industry, you might find that you've already covered most of your competitors' keywords. In this case, you can try using our Content Gap tool. It finds keywords that one or more competitors rank for, but you don't. To use it, plug a few competing domains into the top section, then paste your site into the bottom field and hit "Show keywords."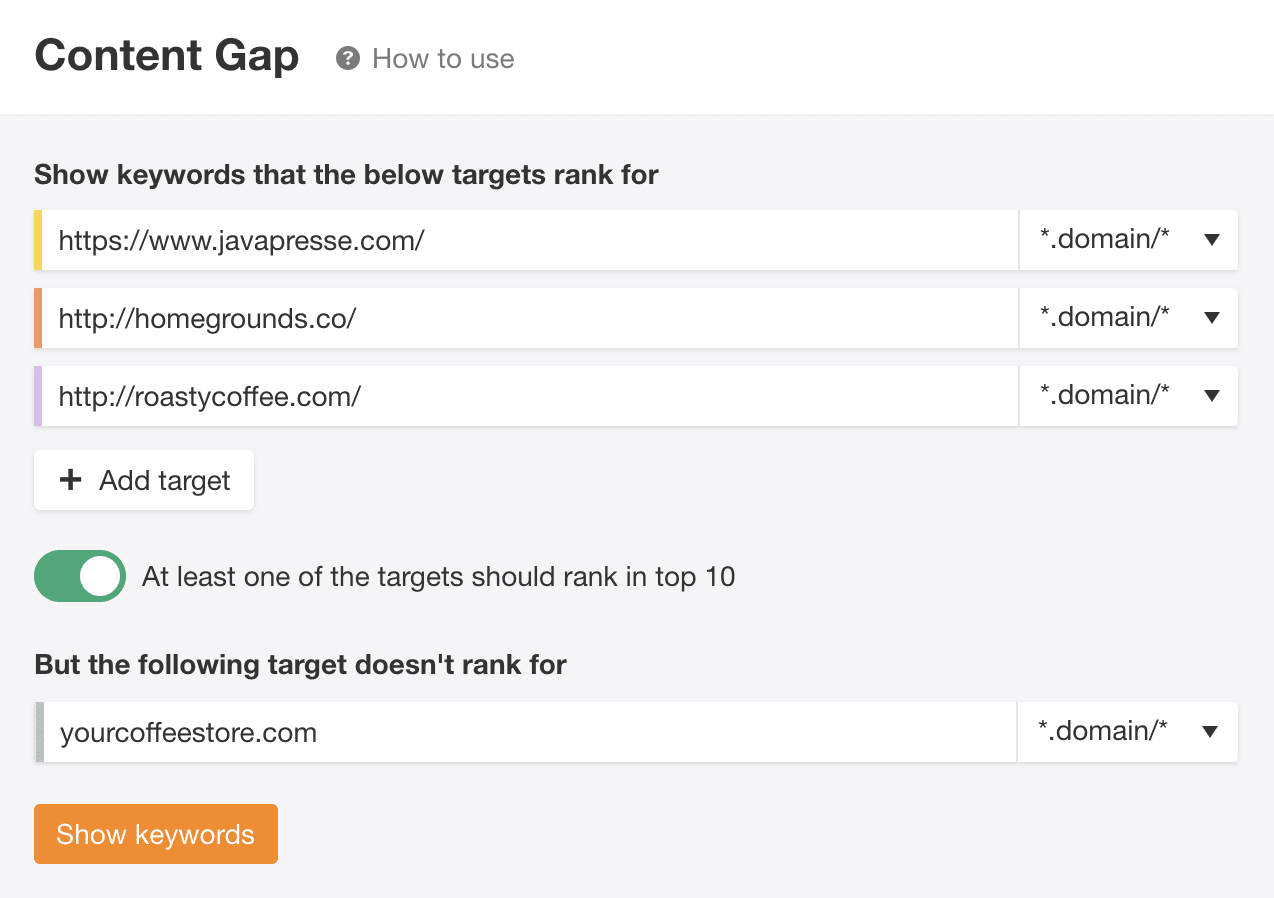 Enter competing sites in Ahrefs' Content Gap tool.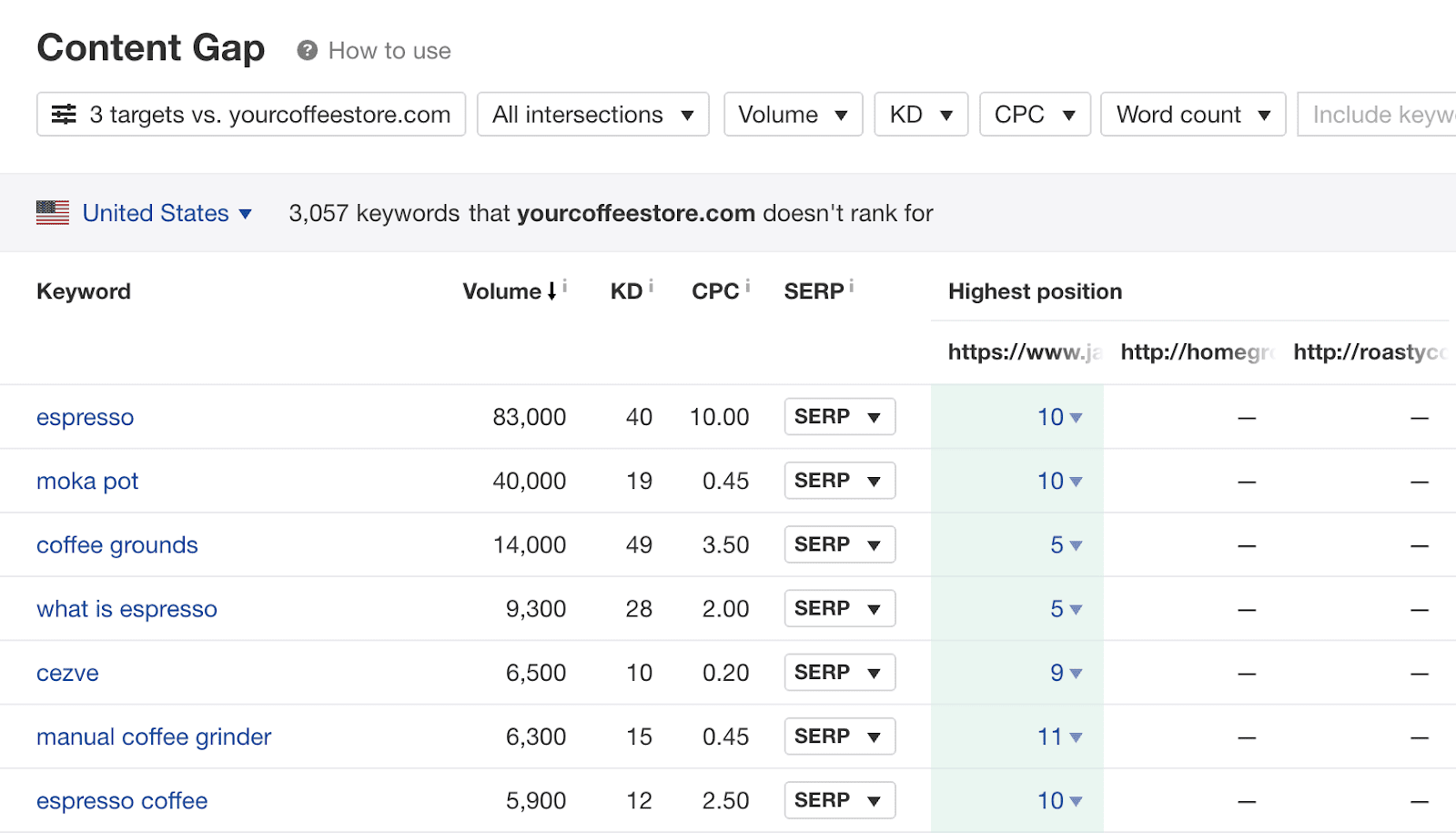 Get a list of keywords that competitors rank for, but our site doesn't, in Ahrefs' Content Gap tool.
Here are just a few keywords of the thousands that Homegrounds and Roasty Coffee rank for, but yourcoffeestore.com doesn't:
moka pot
manual coffee grinder
coffee oils
espresso
Learn more about performing a content gap analysis in this video.
3. Use keyword research tools
Competitors can be a great source of keyword ideas. But there are still tons of keywords your competitors aren't targeting, and you can find these using keyword research tools.
Keyword research tools all work the same way. You plug in a seed keyword, and they pull keyword ideas from their database based on that keyword.
Google Keyword Planner is perhaps the most well-known keyword tool. It's free to use, and although it's mainly for advertisers, you can also use it to find keywords for SEO.
Let's enter a few of our seed keywords and see what it kicks back: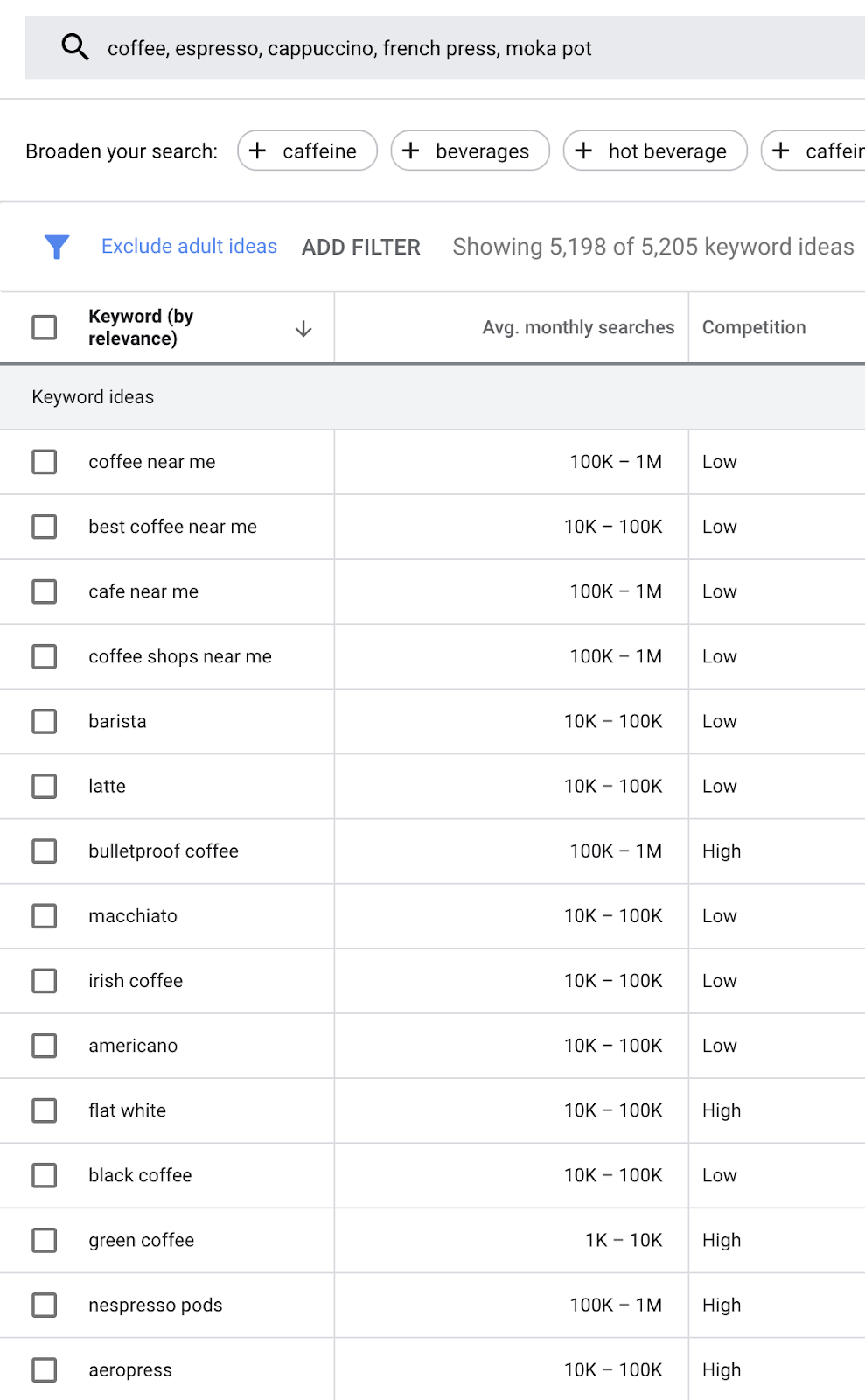 barista
macchiato
irish coffee
americano
flat white
cold brew
percolator
turkish coffee
arabica
k cups
frappuccino
You'll notice that Google Keyword Planner is smart enough to show you relevant keyword ideas, even if they don't contain your seed keywords. Take "k cups," for example. Unless you're a hardcore coffee connoisseur, you probably wouldn't know this relates to coffee.SIDENOTE. The "Competition" metric in Google Keyword Planner has nothing to do with SEO. It shows how many advertisers are willing to pay money to show ads in the search results for that keyword. You should pay no attention to it if you want to rank organically.
Beyond Keyword Planner, there are quite a few other free keyword research tools. These are great if you're on a budget, but you'll quickly realize that they're all very limited in their data and functionality since their goal is to convert you to a paying customer.
If you're serious about keyword research, you may as well skip the free tier and use a 'professional' tool like Ahrefs' Keywords Explorer right off the bat.
Let's enter a few of our seed keywords and see how many ideas it generates.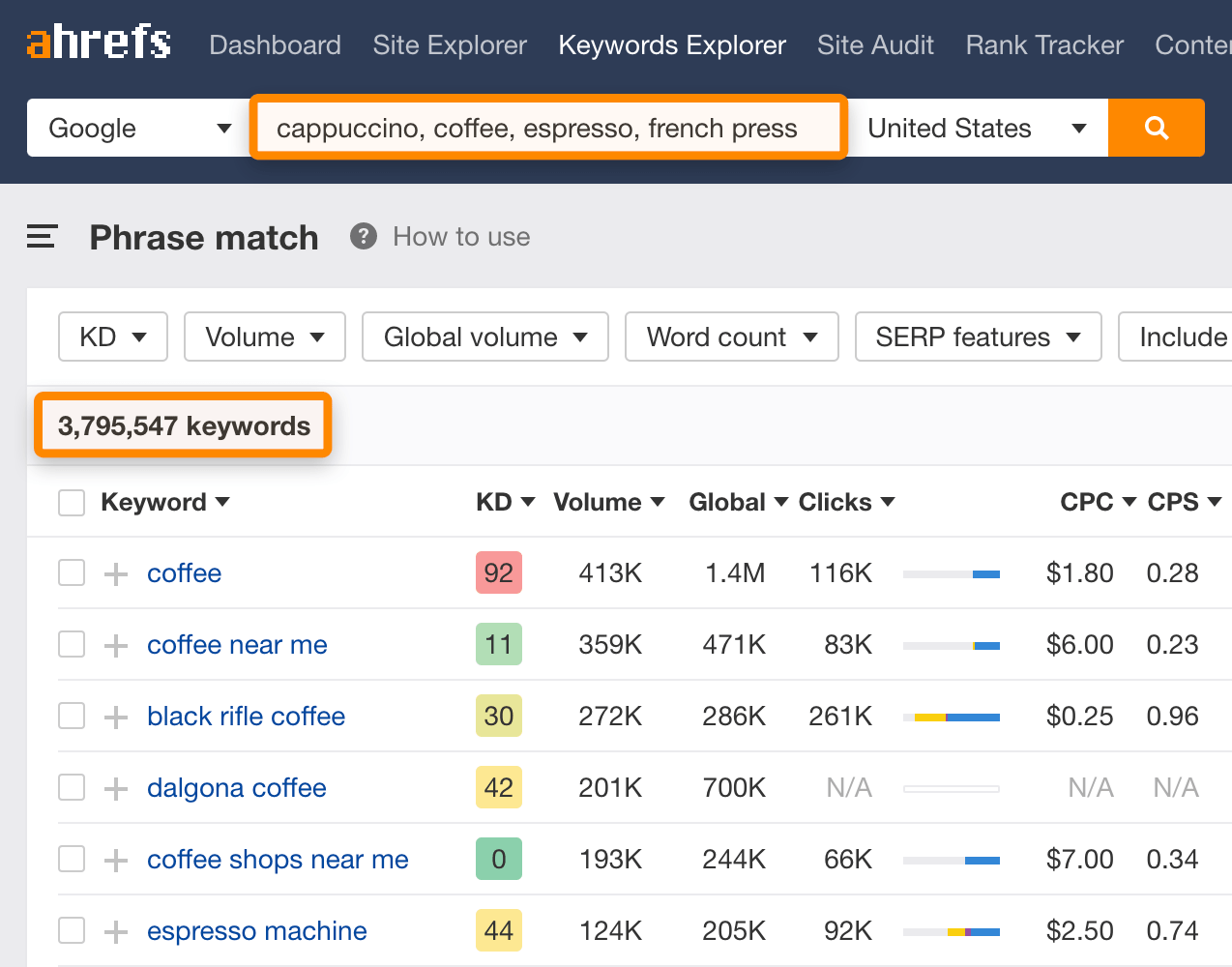 The 'Phrase match' report in Keywords Explorer gives us almost four million keyword ideas from just four seed keywords.
3.7 million ideas. And that's just from the "Phrase match" report. Other keyword ideas reports match keywords ideas in different ways.
Here's how the reports in Keywords Explorer match keyword ideas:
Phrase match: Keyword ideas that contain the 'seed' keyword as is. For example, if your seed keyword is "computer chair," then "black computer chair" would be a match. However, "black chair for computer" wouldn't, even though it also contains both words.
Having same terms: Keyword ideas that contain all the individual terms from the 'seed' keyword in any order. For example, if your seed keyword is "computer chair," then "black chair for computer" would appear in this report.
Questions: Keyword ideas that contain each term from the 'seed' keyword in any order, plus a "question word" like "how," "what," "where," "when," or "why." For example, if your 'seed' keyword is "computer chair," then "what is the best chair for computer work" would appear here.
Now, that might seem like an overwhelming amount of ideas, and it is. But don't worry. You'll learn how to narrow these down right in the tool in the next section.SIDENOTE. Keywords Explorer has millions of keywords for other search engines too. Bing, YouTube, Amazon, and Baidu are just a few of them.
4. Study your niche
Everything we've discussed so far is enough to generate an almost unlimited amount of keyword ideas. But at the same time, the process kind of keeps you "in the box." It's limited by your seed keywords and by the size and freshness of your chosen keyword tool's database. Because of this, you'll almost certainly miss some good ideas.
You can solve this by studying your niche in more detail. And a good starting point is to browse industry forums, groups, and Q&A sites. This will help you find more things that your prospective customers are struggling with that didn't show up in keyword tools and that none of your competitors bothered to cover.
For example, here's just one popular thread from the /r/coffee subreddit: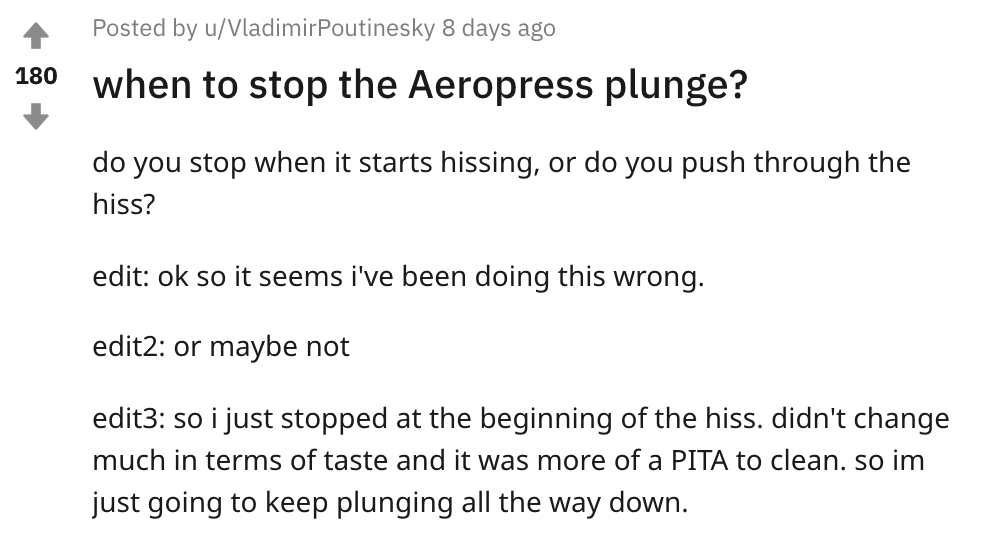 This person is asking a question about a coffee maker called Aeropress. If we plug that topic into Keywords Explorer, we see that it gets 61,000 monthly searches in the US, on average.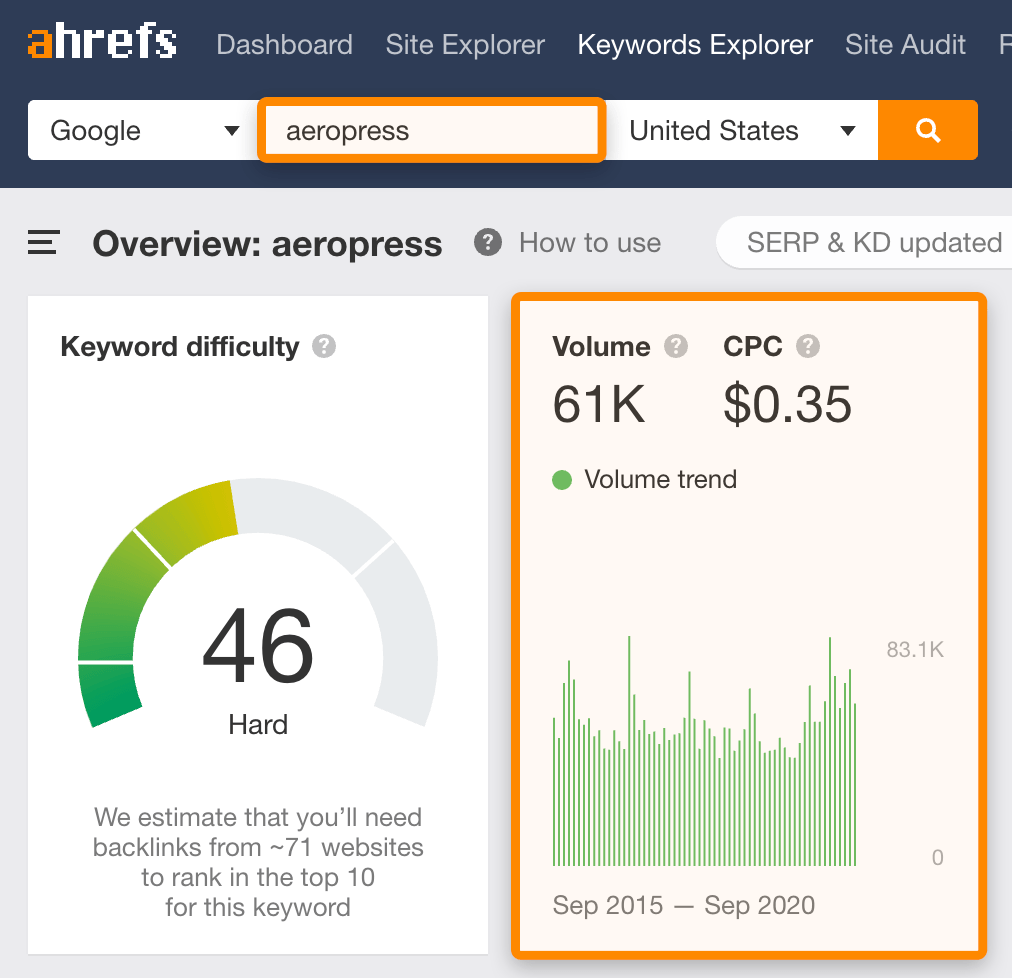 We might not have found this using tools because it doesn't include any of our seed keywords.
Here are a few other interesting topics from that subreddit that which might be worth covering:
pour over without a hario filter
how to make a carajillo
growing coffee at home
ethiopian coffee
coffee subscriptions
If you notice any trends among these keyword ideas, you can use those as new seed keywords in Keywords Explorer to find more ideas. For example, if we use "aeropress" as a seed keyword and check the "Phrase match" report, we see thousands of keyword ideas.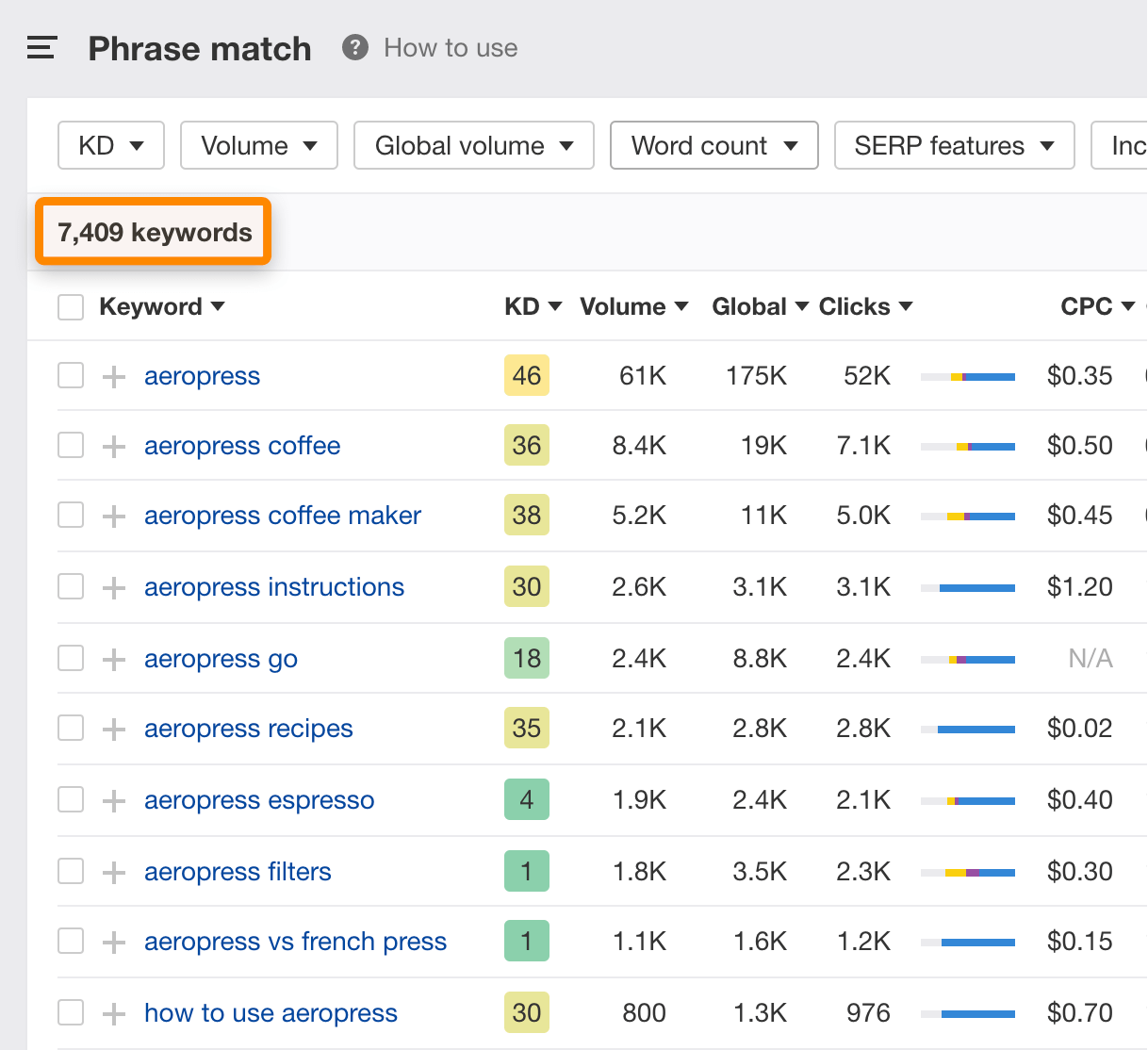 Thousands of keyword ideas in the "Phrase match" report in Ahrefs' Keywords Explorer.
Beyond browsing forums, your customers can also be a fantastic source of keyword ideas. Remember, these are the people you're already doing business with. You want to attract more people like them to your site.
Here are a few ways to extract insights from clients or customers:
Chat with them face to face
Look through past emails
Look through customer support requests
Try to recall common questions that came up in past conversations
Make sure to pay attention to the language they use when doing this. It will often differ from the language you might use. For example, if you sell coffee machines online, maybe your customers search for comparisons of specific machines.
---
Chapter 3
How to analyze keywords
Having tons of keyword ideas is all well and good. But how do you know which ones are best? After all, going through them all by hand would be a near-impossible task.
The solution is simple: Use SEO metrics to narrow things down and separate the wheat from the chaff before adding them to your content calendar.
Let's explore five keyword metrics you can use to do this.
Search volume
Search volume tells you the average number of times a keyword gets searched per month. For example, "moka pot" has a monthly search volume of 40,000 in the US alone.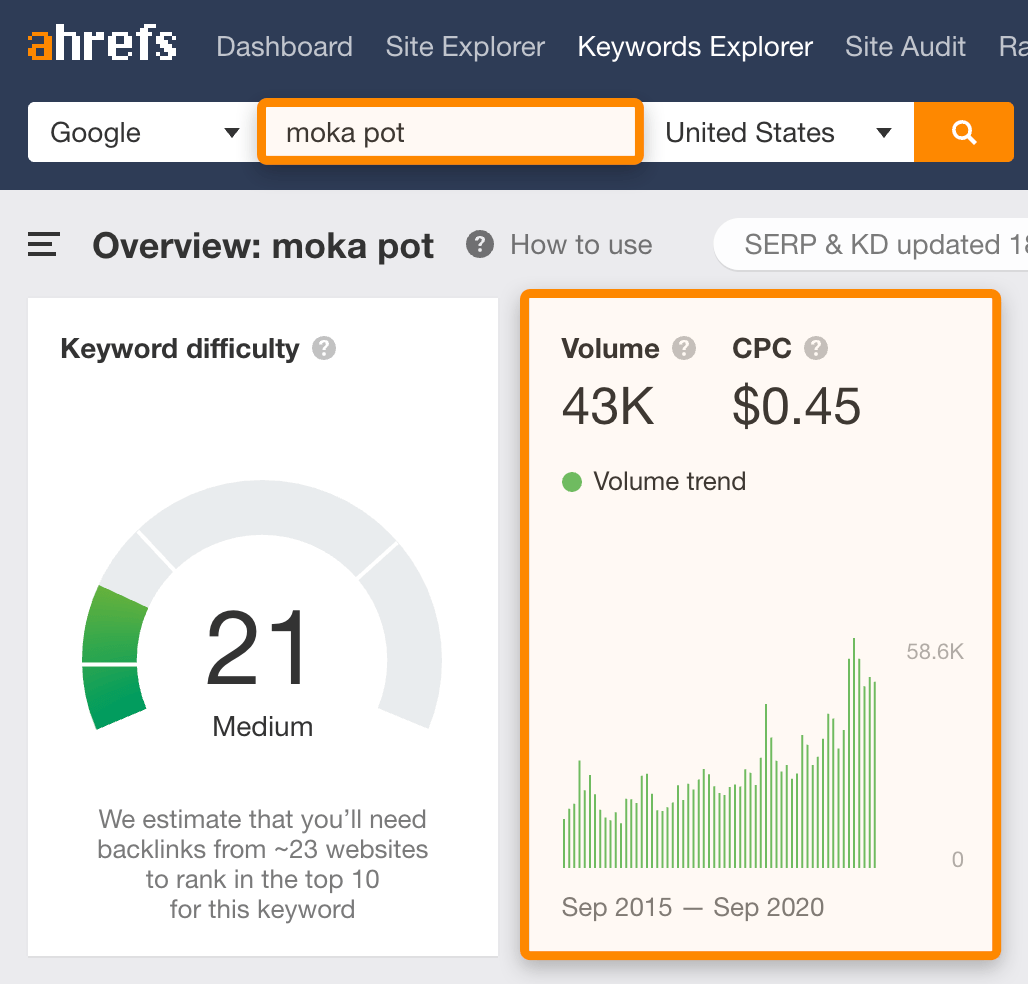 There are three important things to note about this number:
It's the number of searches, not the number of people who searched. There are cases where someone might search for a keyword multiple times a month (e.g., "weather in singapore"). These searches contribute to the search volume, even though it's the same person doing them.
It doesn't tell you how much traffic you'll get by ranking. Even if you manage to rank number one, your traffic from a keyword will rarely exceed 30% of this number. And that's if you're lucky.
It's an annual average. If there are 120k searches for a keyword in December and none for the remaining eleven months of the year, it's monthly search volume will be 10k (120k / 12 months).